I've said it before, and I'm sure I'll say it again: Most situations are manageable with proper preparation and planning. That part out of the way, I'll say that going to stay in hotels feels like a tough one. Not only do they tend not to assign you a specific room until you arrive, but they use cleaning chemicals frequently, tend to use liquid laundry detergent, have unknown toilet paper, use chemicals to clean carpets and furniture, and often add "freshening agents" to air conditioner units and carpets to make the room smell better. If that isn't a minefield, I don't know what is.
The most important step, and the one I missed the first time, is to call the hotel ahead of time. Each hotel will be different, but many should be willing to work with you at least a little. Call before 3 pm (when most hotel housekeeping staff go home) and speak to the head of housekeeping; don't even bother explaining the situation to the front desk. After explaining that you have chemical allergies, you can ask if they would be willing to wash the laundry for the room in different detergent, and work with them to find something safe. If that isn't feasible, ask them to put your sheets, towels, and blankets through one or more *only* hot water washes. Ask them if they would be willing to use hypoallergenic cleaners for hard surfaces (not guaranteed to be safe, but maybe more likely), or even better, vinegar and water. They may say they need to clean with their commercial cleaners first, but can give everything an extra wipe-down with vinegar and water afterward. Ask them to clean out the air conditioning unit, and to not put any chemicals into it, and ask them not to spray any fresheners in the room. Ask if air fresheners in hallways near your room can be removed. Call again one to two days before check-in to ensure that your room has been assigned and that housekeeping is preparing appropriately.
That's about as far as you can go with asking the hotel itself to accommodate you. Results may vary. Once, the front desk staff hung up on me before I ever got to talk to housekeeping. And make sure they know exactly what kind of room you need, because asking to change rooms when you arrive will not work. The rest is up to you. Bring along, at minimum, the following items:
Your own pillowcase/pillow
A safe towel
A spray bottle with vinegar and a cleaning cloth to wipe down hard surfaces
Your own toilet paper and toiletries
A separate bag into which you can place used items for safer transport home
If the hotel has managed to make all your requested changes perfectly, these items will help alleviate any remaining issues you can affect on your own. Carpets and soft furnishings will be hard to do anything about, but you can always wear shoes in the room, and bring along extra blankets or sheets to act as a layer between you and the chair or couch. Finally, avoid putting anything but your shoes on the floor, or onto a contaminated surface.
I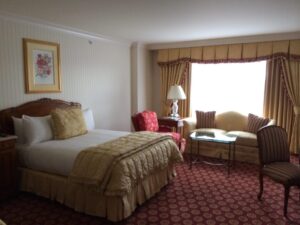 f you have any reason to doubt the hotel's ability to meet your needs, consider also bringing:
A safe sleeping bag or your own set of sheets and blankets
A sleep mask to help protect your eyes
Sheets to cover chairs, beds, or couches for sitting prior to bedtime
One option may be to pay the additional fee to stay in one of the "clean rooms" popping up in some major hotel chains. Even then, these rooms seem to be geared more toward people with dust allergies than chemical allergies, so it would still be best to call ahead to make sure the hypoallergenic cleaners are actually safe, and bring along your own provisions, just in case.
I know hotels can be done, but they are a huge challenge. Using these tips, I managed to have a reasonably comfortable stay the last time I was in a hotel, but it will still never be as easy as staying at home.
Wednesday, May 11, 2016 – My husband travelled to another city on Monday, arrived at the hotel, and called saying that I should come because the hotel had remembered our cleaning preferences and the room smelled heavily of vinegar.  I had been away for over a week myself, and missed him, so I thought that was a great idea.  I planned to drive the 2 1/2 hours the next day to go see him.  When we arrived, after dinner, we went up to the room, and I was dismayed to find that my daughter's bedding smelled of detergent, as did the towels and blankets.  He had forgotten to leave the "Do Not Disturb" tag on the door handle, so room service had come in to make up and freshen the beautiful jacuzzi and fireplace suite.  I spent an extremely uncomfortable (and cold) night in my thin sleeping bag on the back seat in the van.  Please don't repeat our heartbreaking mistake – Leave the "Do Not Disturb" door hanger on the outside of the door at all times!
How have your hotel experiences been? What have hotels done to help you with allergies? Comment below.