Did you know that rolls of what we now call toilet paper were originally sold as facial tissue (for blowing your nose, etc.)?   I never would have thought about my toilet paper being a problem if I hadn't seen it on the methylisothiazolinone Facebook group. I have been having an issue with toilet products and other items used "down there" for a bit longer than I realized. Over the last few years, I would sometimes get itchy like I had a yeast infection, but it would clear up over time without treatment. I would get sores/cracks in my sensitive areas, too. I even made a lot of changes to my feminine products, but that's a whole other post.
Once I saw the posts about toilet tissue on the Facebook group, it all clicked into place for me. Here is what was mentioned: Isothiazolinones are often used in toilet paper as a part of the adhesive that binds the toilet paper to the cardboard tube, the toilet paper into a roll that won't unravel, and the plies of the toilet paper together. It can also be used to treat the cellulose fibre (as a biocide) before it is turned into paper. Since they are produced very similarly, facial tissue and toilet tissue will have the same issues. Some people also reported problems with lotion-coated or "moisturizing" tissues, on which I can't make much comment. I can say that the "lotion" used on tissue doesn't entirely resemble lotion you buy in a pump container or tube.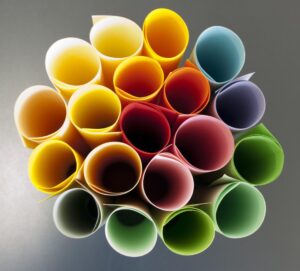 I have a bit of experience in the paper industry, both working in mills as technical support and selling and troubleshooting chemicals in paper mills of all kinds. When chemical balances were causing paper issues, I made chemical adjustments and corrected the issue. When my company wanted to expand into new mills, I went in and learned about their systems and what kinds of chemicals they were using. Those comments got me thinking. Yes, adhesives are used to hold toilet tissue to the roll and to hold the flap of toilet paper down. Those adhesives could contain isothiazolinones, especially if they're water-based. That is pretty straightforward. Many companies use the "quilting" process to help hold their toilet tissue plies together, but it is feasible that some might use an adhesive, those adhesives are likely water-based, and they could contain isothiazolinones. Very possible.
The interesting one is treatment of cellulose fibre. Because cellulose is used in more than just paper. In fact, it's used in the natural laundry detergent I first picked up when I was trying to find something natural and isothiazolinone free. (I've since moved to creating my own) I have heard it said that recycled tissue should be safer, but upon closer introspection I don't believe that to be true (see the previous link above).
There are many processes used to create virgin cellulose fibre for various applications. Some use chemicals to dissolve bonds and create long fibres, and some use hot water and relatively few chemicals to create shorter fibres, better for newsprint and other short-lived paper. Before the wood chips are turned into fibre, they sit outside in large piles, exposed to the elements and whatever bacteria and dirt are in their environment. They get wet, the outer layers dry, but the chips are not truly dry. Though I was not directly involved in chemical use in the paper mill with whom I was employed, I can believe that a biocide would be needed to ensure cleaner paper and to aid in making other parts of the paper making process function more effectively.
I also worked in many virgin and recycled paper mills as their chemical supplier. Recycled paper mills have a varied stock that enters their mills. They tend to receive their fibre in bundles classified by what kinds of fibre they contain. They may receive white office paper, corrugated cardboard, boxboard (the stuff cereal boxes and many other consumer goods are packaged in), and more. They do not tend to receive recycled tissue. These bundles are by no means pure, as I have seen other kinds of paper, pop bottles, plastic bags, and even washing machine drums inside these supposed bundles of fibre. This fibre has been exposed to food and millions of types of bacteria present in our everyday lives. It has seen the bottom of smelly, sticky, damp, recycling bins, and every step of the recycling process after that. If that recycled fibre doesn't need a biocide to kill what's been growing in it before it's applied to our food and our bottoms, I don't know what does. I cannot confirm whether the biocides used contain isothiazolinones. I can confirm that they are there.
Considering that I am allergic to both nanoxynyl-9 and isothiazolinones, at least, I should try to avoid as many as preservative/biocides possible. I had been using Charmin Extra Strong, which was causing me at least occasional problems. When I travelled to FanExpo, I was exposed to hotel toilet paper, which immediately made me break out with sores and itching. In a desperate attempt to soothe my itchy and swollen sensitive bits, I picked up a 100% recycled fibre toilet paper that claimed to be hypoallergenic from a health food store. No relief. I picked up a second recycled product. No relief. Finally, I picked up a bamboo-based toilet paper called Caboo. Though I think I was mildly reacting to it, it seemed to be much less, and the swelling and sores healed. The problem was the cost. For 12 rolls, the price is almost $13. I used the same roll for a week (being the sole user of that particular roll in my house), but it's still a lot to pay for toilet paper, especially when you have a young child who loves to go through a roll of toilet paper a day.
How did I fix this problem? Come back Friday for the conclusion to the toilet tissue saga.