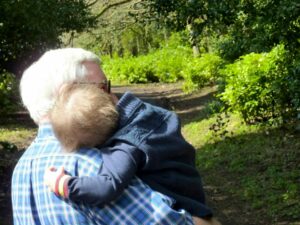 My in-laws arrive this week from halfway across the country. They know about my allergies, but I don't think they realize yet how much little things affect me. Nonetheless, they really are trying to make as little impact on my health as possible, a fact I wholeheartedly appreciate.
Having guests in our house has been hard. Weekly babysitters I've been able to handle with a hint about body care products, setting out a roll of toilet paper, and removing the blankets from the couch. Having someone in your home for longer periods of time, bringing clothing with their own detergents and fabric softeners, having their own body care routines and products in your bathroom…it's a whole other challenge. Now, if I lived in 1500, I'd be perfectly fine, but nobody realizes all of the lifestyle changes that need to be made to get by in the modern world when you have chemical allergies until they do it for themselves, and a vacation is not a fun time to start.
My in-laws like to shower and then go out for coffee. We don't have room for a coffee maker, don't drink coffee, and need them to shower when they get back. I don't know how that will work with my mother-in-law's blow-dry-only hair.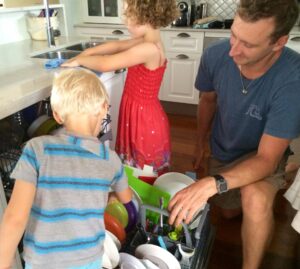 My in-laws like to help with dishes. Homemade dish soap makes doing dishes quite different here.
My mother-in-law has a lot of beauty products. Right now we use soap and oils. No hair products other than clays. Everything gets into the air and onto my skin. I think this will be the toughest challenge next to the coffee trip.
My in-laws use toilet paper. I'm sure we have enough left over in the house. Phew.
My in-laws wash their clothes in regular detergents, and will change clothing back and forth throughout the day, wearing things again later. We're going to abscond with their clothes and wash them all when they arrive. We sent some laundry soap in the mail so they could prewash one set for when they first get here.
My in-laws use facial tissues. We have some of those left over, too.
Garbage bags are on their way out in this house. Too many have Febreeze fragrance in them. That means no wet stuff in the bathroom garbage. It's hard to remember how other peoples' houses operate, especially when you're only there once or twice a year.
We're going to give this a shot and see how it goes. It's going to be a huge adjustment for them, and I thank the heavens it's family who are willing to try to make things easy on me rather than someone who doesn't care to understand what's going on in our lives. I'll post an update later in their visit.
Have you had long-term houseguests since finding out about your allergies? What did you do to avoid reactions? Comment below.