This weekend I went to a wedding, about four hours from home. It was a beautiful wedding incorporating all sorts of rituals and touches special to the bride and groom. There were family of the bride and groom, friends galore, and lots of hugging and dancing. Food was typical buffet style.
That's what you typically hear about a wedding. For the allergic, and those sensitive to foods, a wedding is a bit more than that. Now for the real lowdown: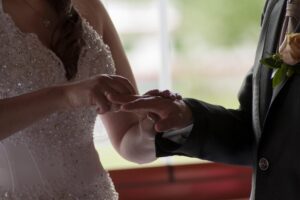 Ceremony – The ceremony was beautifully traditional, but also unique. Catholic rituals ruled, with subtle touches of Star Wars. But what do you do when you go to sit beside a friend and find out they're wearing perfume? It's rude to get up and leave again, and how do you communicate the issue to your family without everyone overhearing? Not wanting to seem rude, I stayed put. This resulted in stuffed sinuses to the point of causing faint flulike symptoms by the time we left the church. So be it. We picked up some saline sinus rinse on the way to the reception, since I forgot the neti spray bottle.
What I should have done – Next time I won't be so afraid to move. I'll just make an excuse to sit with a different friend after talking for a few minutes, or let them know, vaguely, that I need a different vantage point or need to move. I'll remember to bring the sinus rinse bottle and salt packets.
Supper – I was expecting a buffet, and I wasn't wrong. Knowing the buffet would likely be loaded with dairy and potatoes, we stopped and picked up a couple of hamburgers and apple pies from McDonalds on the way to the reception. That way if I couldn't eat anything, I'd still have eaten. It turned out that I could eat the roast beef and the fruit. That's something.
What I should have done – I probably should have looked up a local restaurant that would serve better food ahead of time, or planned for groceries, but the plan worked at least.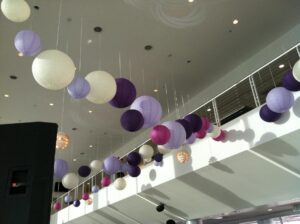 Reception – I wore a dress that was a tad too short. My dress let my bare legs touch the seat directly, and the tablecloth touched my bare legs on top. I chose the dress I wore because it had more coverage on the upper body, but hadn't thought about the legs. I gave away my wine tickets and got an enormous, extended hug from an inebriated lady as a thank you. Lots of hugging is expected. I washed up that night with a facecloth and measuring cup full of water, put on my medicated creams, and used my eye drops. Only so much you can do when camping away from home.
What I should have done – I should have chosen an ever-so-slightly longer dress and should have worn some upper body coverage like a shawl or jacket. The clean-up afterward worked well, and my medication helped a lot. I think I'm getting the hang of this one.
I'm so happy I could be there for the big day, and I wish the happy couple all the best for their future together. With a few tweaks, the next wedding will be even easier.
What kinds of things have you done to help you get through weddings? Comment below.