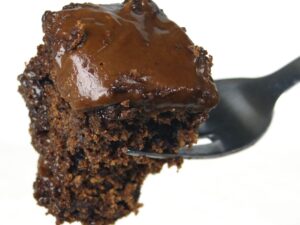 In honour of my birthday, I'd like to share with you a couple of recipes that my hard-working husband and excited daughter will be whipping up today. While I once would have loved to have an ice cream cake from Dairy Queen, chocolate cupcakes with chocolate icing are my cake of choice the past few years, and my husband located yummy and moist recipes, egg-free and dairy-free. We've been using these for about five family birthdays now. Without further adieu, here they are:
Chocolate Cake
(from [http://www.vegweb.com/recipes/lisas-chocolate-cake-0])
1 cup Sugar
1 1/2 cups Flour
1 tsp Baking soda
1/3 cup Cocoa
1/2 cup Oil
1 cup Cold water
2 tsp Vanilla
1/2 tsp Salt
2 Tbsp Vinegar
Preheat oven to 375oF. Mix first eight ingredients well. Add the vinegar and mix quickly and thoroughly. Put into cake or muffin tin and bake for 25 minutes. Serves 6 to 12.
And the chocolate icing
(modified slightly from [http://www.vegweb.com/recipes/freakin-easy-frosting])
4 Tbsp Vegan butter or shortening (half and half is best, but one may be trickier to find)
2 to 6 cups Powdered Sugar
Splash of Vanilla
Almond milk, as needed
Cocoa powder, to taste
Soften butter/shortening and place in a large bowl. Add vanilla and about 2 cups of powdered sugar. Use a hand or stand mixer to blend until the mixture is crumbly and the fats aren't big chunks anymore. Add a splash of almond milk to smooth out the frosting a bit, then add cocoa to taste. For a "dark chocolate" frosting, add more cocoa. Adjust the balance of dryness/runniness until you are happy by adding more almond milk or powdered sugar and mixing.
Have a great weekend everyone!